Power BI tutorial for beginners – Microsoft Power BI
Power BI tutorial series- From zero to a project
In this series of Power BI tutorial, we will start from very basic and will move towards complex concepts. The goal of this power bi tutorial series is to give learners a taste of how things work and how they need to think in order to solve a problem. At the end of this tutorial series, learners will end up completing a simple project. We are taking a simple project first so that learners gain confidence in their abilities and start to try things on their own. Later we will try some better projects as well so that learners skills could be improved.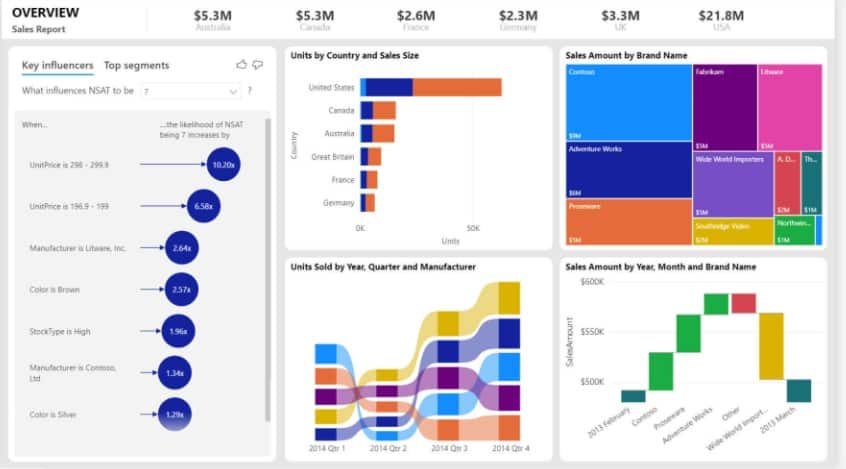 Frequently Asked Questions
What is Microsoft Power BI?
According to Microsoft, Power BI is a Business Intelligence and analysis tool that gathers insights from the data provided and help you share those insights in front of the team, organization, in the form of storytelling. Those data insights later can be used to draw a conclusion about the performance of the product or draw attention to factors that need more improvements. Eventually, all of these tasks will improve the business performance.
What is power bi used for?
Microsoft Power BI is used from pulling the data from a data source and performing some data cleaning and manipulation techniques to design a dashboard or a report. The report or dashboard that you will make may have used different data visualization techniques.
Is Power BI free?
Power BI comes in several versions, including power bi desktop, power bi mobile, power bi pro. Power BI Desktop version is free to use for beginners. However, you can always buy a power bi pro licence if needed.
Is Power BI difficult to learn?
No, absolutely not. Power BI is designed in such a way that it can be easy to use for the end-user. Every type of user is taken in mind while designing this tool. People who do not have technical background can also use it without much trouble. Power BI documentation also helps new user to learn power bi.
Is excel knowledge required for power bi?
If you know excel already then power bi might seem easier for you but even if you don't know excel still you can learn and use Power BI. Most of the functionalities of power bi can be implemented with GUI methods. You do not need to know Excel formulas.
Do power bi uses Excel formulae?
Power BI has its own language for manual manipulation of Data. DAX is used in power BI which is similar to excel but still easier to learn. If you know excel then you can perform manipulation in Excel sheet and import the data later into the power bi. But if you know DAX you can directly import the data and perform manipulation there.
How can I use power bi in personal computer?
You just need to click on the below button which will lead you to the Microsoft power bi official website. From there you can download the power bi desktop. If you have any doubt, follow our guide in the next tutorial on how to download power bi desktop