How to Make Money Online for Beginners in the USA
Are you curious about earning money and want to learn the ways to make money online? Do you want to be an independent person and manage your own expenses? Are you curious to learn about How to make money online for beginners? Then surely this post is for you.
Well let's be honest, earning money is not easy, but it's not that difficult as well. Things that can help you earn money online can be different in different areas, and now it's you who have to choose which way you want to go.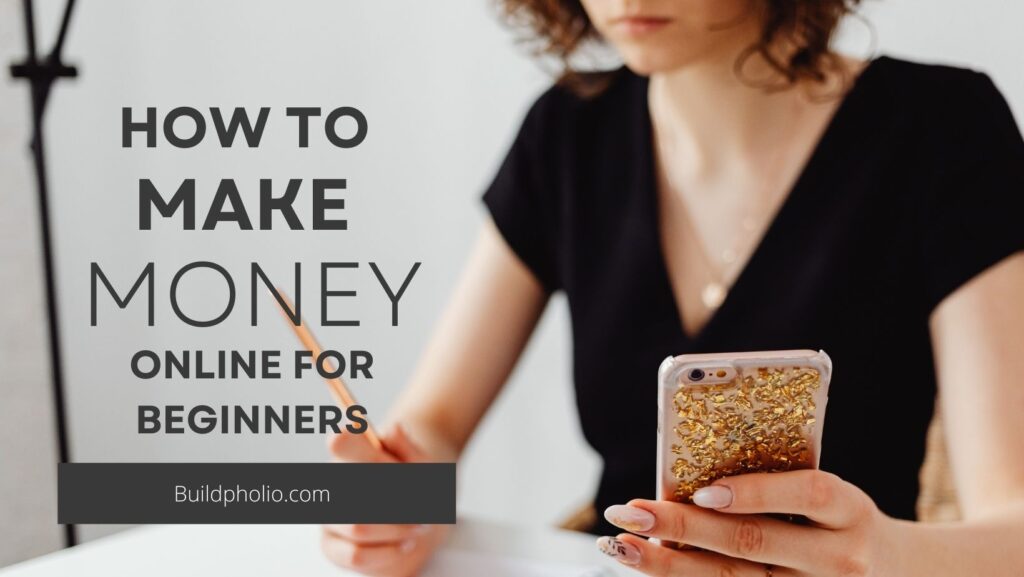 There are several ways mentioned on the internet that claim to tell you about the ways that can help you earn good money. But most of these ways do not even work. While others are unethical ways to mean money. How to make money online that is legit? That's a real question, and we will try to answer this question today in this post.
How to Make Money Online?
There are several ways of making money online, and I am going to discuss the most dominating ones here. Making money is simply a tradeoff. Here you sell something to someone in need and in exchange you get money. Now, What's that you can sell and What people are selling to make money online?
The tradeoff of making money online happens in the following few ways:
Selling a service online
Selling a product online
Selling your power of network online
Selling your time for money
Selling your knowledge for money
There are few fields that are common for more than one category. Like promoting an affiliate product on your YouTube channel. This field can be a common between Network for Money, and Time for Money, and sometimes it can involve Knowledge for money as well, completely depending on the type of your YouTube channel.
We will discuss each one of them in detail and will get to know how each one of them can help you.
Selling services online to make money
If you are naive, then this might confuse you. How anyone can sell a service when we are talking about it online. Your confusion can be clear if you just broaden your perspective. You might be thinking of the service as something like a car wash. Now a car wash cannot be sold online(it can be booked but cannot be delivered)
You need to think about services that are digital. You can do several things online and earn accordingly. We are presenting a list of services that you can sell online.
Producing content for someone else.
Making videos for big companies.
Coding or make solutions for other companies.
Photo Editing
Video Editing
Game Design
Data Analysis
Web Crawling\Selling Crawled data for a problem
Most of the services in this segment can be easily accessed through freelancing. But if you want to make your own image or clients, then you can start on your own. Also, freelancing platforms have a lot of competition, and usually, beginners have a low chance of getting their first project. But once you get your first project, then there are high chances that you can use your first feedback to get another client easily.
Selling a service online has a barrier of entry, which is bad but a good thing. To be successful in this segment, you should have experience in that field. By working, I do not mean professional. But you should have a portfolio where your previous work can be visible to the clients so that they can check your work and consider you for their job.
Example- If you are trying for producing content for a big firm. The first thing that you need to do is to make a few projects for yourself and improve your skills in content creation. You can use these projects to pitch for a job, and your possible client can judge you on the basis of your previous work.
Some part of this category overlaps with other categories
Selling a product online
Selling a product online can differ between selling a physical product and selling a digital product.
Selling a physical product is more about having a physical store somewhere and then taking orders online and on the basis of those orders selling your products to physical locations.
While selling a digital product is completely different. It can be anything from a coded tool to an audiobook or digital book.
We are presenting you with a list of things that you can sell as products online. Some parts of this category might overlap with other categories, and that is because there are no definite boundaries.
Selling themes online
Selling Arts and especially NFT work
Selling e-books
Selling Audiobooks
Membership for your website
Selling tools to already set businesses
These are a few prominent fields in which you can earn a decent income and the beautiful part of this category is that you have to work hard once for a product and after that, you can sell it for a long duration.
It is a very popular category, and that's why many entrepreneurial journeys start from these categories.
This category also has an entry barrier, and that barrier is that either you must have an excellent skill set in a field, or you should have capital ready to be deployed.
Now we will tell you about the categories that anyone can start and these are the guide on How to make money online for beginners.
Selling your power of network
This is the most prominent field of this decade. Brands are turning towards people who have an already built power of the network. If you do not have a network, then you should start now.
What do I mean by the power of the network?
The power of a network is simply the number of people that you have an influence on. To make the power of the network in real life, you need to meet a lot of people to do that. But when you are online or have social media, you do not need to meet people in person, you can simply use that platform to make a network for you.
We are talking about Influencer marketing which includes Instagram marketing, TikTok Marketing, Facebook Marketing, Pinterest Marketing, Reddit Network, Discord Network, and another kind of networks that can help you to make a powerful group of people.
A good thing about this category is that it does not have a major entry barrier, which means anyone despite age, gender, knowledge, and experience can enter this field. But to be successful, you need to learn a lot of things alone.
A key to success on social media is to be consistent. Social media algorithms prefer people or accounts who are regular in posting content on their platform and engage with their audience more often.
People on social media also prefer only active communities.
You can start on social media by picking a topic, and then you can start posting content on that topic. That topic can be anything like tech, games, sports, dance, makeup, art, singing, comics, comedy, and many more.
Another benefit of this category is that you can start from anything which you are already good at. You hardly need to learn anything new to enter, but you should be willing to learn more and more, and work harder and harder. Because your audience can not see or hear the same thing repeatedly.
Getting money in exchange for time
This is another category and this overlaps with all of the previous categories because in every category you have to dedicate time. Without time, you cannot expect an output. But there are few fields that need only time to be invested and with that time you can earn money for yourself.
In the Offline world, the most famous example of this category is babysitting. Where a person usually looks around a baby, and they are paid for that, but we know that most of the babysitters are always doing something else while babysitting like they can be on their mobile phone watching TikTok, listening to music, and they have to take care of a situation only when a baby actually needs attention.
Some of these categories are:
Online Gaming – few online games give you the chance to earn fair money in return. With NFT games being so popular these days, there is no doubt that you cannot earn money with these games.
Game streaming-This is another field which is very hot these days. You can start from famous platforms like Twitch and YouTube to earn a fair some of the money. If you are a gamer already then you must be aware of the names that earn millions in this field and the key to reaching that level is to start. This one obviously overlaps with the network because if you are continuous in your streaming you will build an audience as well.
Live streaming is another field where you can earn handsome money. This live streaming can be about your favorite topic. People are really loving live painting or live art shows.
Travel Vlog is another example where you can earn good money and people love to watch it. If you can do a live Travel Vlog, then that will be an amazing experience for people. You will see a different kind of reaction from the people and this will also draw more people towards you as people love to interact. A good thing about Live Travel Vlog is that you do not need to edit any of your videos, and it does not need major equipment for a beginner.
Online Commentary is another example of earning money in exchange for time. Not many people are trying this field, and you can do it as well. Live commentary in sports events as well as in online gaming is very popular.
Online counseling is also an example that is getting a lot of attention these days. You can choose something like career counseling, parenting tips, and another kind of area that you have a natural thing in it and do not need to study a lot about it. Example-Parenting is common for those people who were parents once, and they can guide new parents or first-time parents and this hardly involves anything new in it. But those new people do not have any experience in it and are willing to learn from you.
Investing is another way to make money in this field, but we are not discussing it here because this article is on how to make money for beginners, and investing isn't that beginner-friendly. Also, you might need a good source of income first to keep investing.
Selling your Knowledge or Expertise for Money
This category of making money for beginners is also very beneficial. Selling what you already know is a great way to make a good income. No doubt you can use that knowledge to sell products or services as well, but selling knowledge is a completely different approach. You can sell a website designed by you like a product, you can sell your freelance service as a web developer, but you can also sell web design courses and earn money from there.
If we compare this category with an offline world example, it can be closely translated into selling a workshop in a field that you are already experienced in. People love to come to stack market trading and investing workshops. These workshops can also turn into full-time courses and classes.
For Online money, you can sell your webinars and online workshops of your area of interest. Online courses are also very popular these days. We are going to cover the most popular ways to make money online by sharing knowledge.
Selling a course on your area of interest or in a field you have already worked in.
Selling workshops on demands.
Blogging is another area which you can use to earn a good source of income. Blogging is natural for people who already have knowledge in a field, but it can be useful for those people who are really curious about this subject and have a different perspectives.
Being a guest lecturer on someone else's podcast is also a great way of earning money and spreading your reach to newer people. Some guest podcaster charges a lot of money to come to podcast however, few of them do it completely free and mark it as a collaboration between two podcast presenter or channels.
Start your own podcast and building your own network is also a way to earn a good sum of money.
Start your own YouTube channel about a topic that you are really interested in.